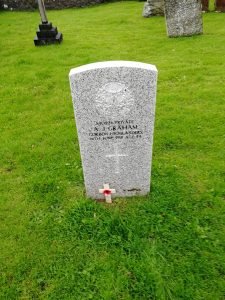 THE GRAVE OF PRIVATE ARCHIBALD GRAHAM, GORDON HIGHLANDERS
Over the coming weekend across the country and the wider world, we will be commemorating 100 years since the end of World War One.  I have always been interested in the war since my days in History classes at High School.  But it is only in recent years as my interest in family history has grown that it has taken on a greater significance to me.  The ability to learn about the ordinary, working people who fought, died, were injured and survived their service allows us to know more about them beyond a simple name on a memorial.
My thoughts on Sunday will be with my 2 x great uncle Fred Bruce.  A young farm servant from Aberdeenshire, who joined the Gordon Highlanders in 1916, he fought through numerous battles in France in 1917 only to lose his life in the onslaught of the German Spring Offensive in 1918.  His body was never recovered and he is commemorated on the Ploegsteert Memorial in Northern Belgium where I visited with my wife and family a number of years ago.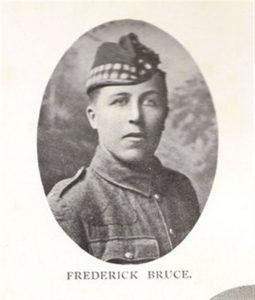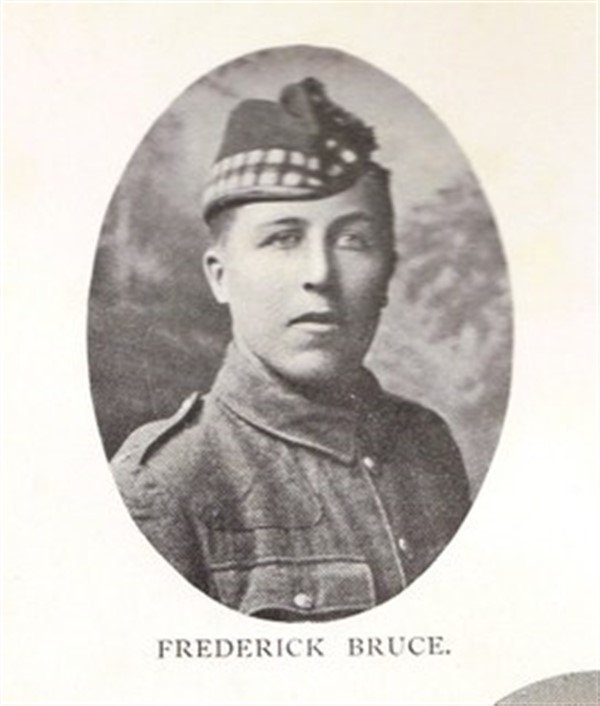 PRIVATE FRED BRUCE, GORDON HIGHLANDERS
Today I headed west from Stirling to the small village of Gartmore near Aberfoyle. It was what us Scots would describe as "dreich".  A cold damp day where the last remnants of the leaves on the trees had received a bombardment from a passing storm the night before.  Heavy clouds hung in the sky as I headed west and to some extent it was the type of weather we often associate with the mud of the Somme or Passchendaele and the Great War, even though many battles, including the Somme, were fought in warm summer days.
My journey was to pay tribute to a young man who lost his life in the Great War but unlike many lost in the war, he lies at rest under a Scottish sky.  He is one of twelve police officers of the Stirlingshire County Constabulary who lost their lives in the war and are commemorated on a plaque in the reception at Stirling Police Office.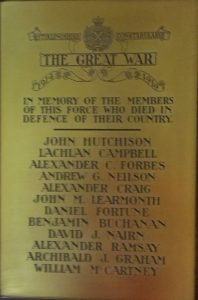 STIRLINGSHIRE CONSTABULARY WAR MEMORIAL – STIRLING POLICE OFFICE
He is the only one buried in Scotland, the rest buried or commemorated in France, Belgium and even in Malawi in Africa.   The story of these young men who gave up their duties as police officers to sign up for the war effort is fascinating as is the story of how the force coped with the loss of men and the increased policing duties that war brings.  I have more work to do to build the full picture but my interest started when studying for my Post Graduate Diploma in Genealogical Studies at The University of Strathclyde.
The young man buried in Gartmore was Private Archibald Graham who served in the 1st Battalion of The Gordon Highlanders.  He was only a police officer for 6 months but his story was typical of so many of the men from the force who gave their lives and indeed the many young men who were lost in that conflict.
EARLY LIFE OF ARCHIBALD GRAHAM
Archibald, or should we perhaps call him Archie, was born in May 1894 at Drymen a few miles south of Gartmore.  His life began tragically as his father John, a farm labourer, died just a matter of months before his birth.  His birth record was relatively rare at the time in listing his father as being deceased.  Sadly the war period 1914-1919 would make this a more frequent occurrence for registrars across Scotland.
Archie's mum, Flora McPhail, was originally from Argyllshire.  She remained at the family home, Badavow, Drymen for a number of years, bringing up her family.  In the 1901 Census, Flora was 44 years of age.  Living with her was her eldest daughter Jane (24 yrs) and the younger members of her family – Margaret, (age 10), Julia (8) and Archie (7).   A number of older siblings had already left home, possibly emigrating.
A CAREER IN STIRLINGSHIRE CONSTABULARY
After his schooling Archie became a farm servant, presumably working at one of the numerous farms near his family's home at Port of Menteith.  In late 1914 with war declared on Germany, Archie joined Stirlingshire Constabulary.  He was one of a number of young men who joined up to replace the Army Reservists who had been called up when the war was declared.  They were already fighting on the Western Front when he wore a police uniform for the first time on the 4th December 1914.  He became Constable 118 and was stationed at Falkirk.  His Personnel Record, now held at Stirling Archives, described him as being 6 foot tall with red hair, blue eyes and a fresh complexion.
But his police career was short lived and the lure of war service must have prayed on the minds of him and other young officers.  With the consent of his Chief Constable, he left the Police on the 24 May 1915 together with five other officers and volunteered for the army.
All six fell during the war and are named on the war memorial at Randolphfield.  But was Archie's motivation purely for King and Country?  His mother Flora Ann had died in February 1914 from a heart condition at the age of 58 years of age.  So with no parents and no wife was there anything to keep him from joining up with his colleagues?
WAR SERVICE
After his basic training, Archie joined the 1st Battalion of the Gordon Highlanders who were part of the 79th Brigade of the 3rd Division.  We are fortunate in that his service record survived a bombing during WW2 which destroyed an estimated 3/4 of soldier's records.  From that, we learn that he deployed to France on the 18th of February 1916.
In the first half of the year, the Battalion underwent training and were occasionally deployed to the trenches near Ypres and Kemmel in Northern France.  On the 1st July 1916, the Battalion was in St Omer, France when the Battle of the Somme started with the British Army suffering the worst day in its history.
However, Archie and his colleagues would have only a fortnight of respite.  On the 14th July 1914, they were involved in the attack on High Wood as part of the Somme offensive and later that month around Delville Wood.  The Battalion suffered heavily but Archie survived.
They were relieved from the frontline on the 26th July 1916 and on the 27th Archie's service record, held on www.findmypast.co.uk, shows that he was admitted to a field hospital due to respiratory problems, likely due to the effects of poison gas.  One of his symptoms was coughing up of blood.  Tests found traces of deadly tuberculosis.  It was thought that he may have been suffering from this for some time but that it had been exacerbated by his deployment.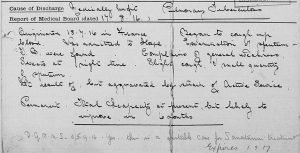 SERVICE RECORD – ARCHIBALD GRAHAM – WWW.FINDMYPAST.CO.UK
Archibald Graham was deemed unfit for further duty and on the 17th August 1916 he was discharged.  After a spell in the Barnhill Sanitorium near Perth, he was sent home to his family home at Stonefield near Port of Menteith, presumably under the care of his sister Jean Kenton, who was listed as his next of kin.  From his Service Record, there seemed to be a genuine expectation that Archie would recover.  Sadly his condition deteriorated and he died on the 16th June 1918 at Stonefield.  He was 24 years of age.


DEATH ANNOUNCEMENTS – STIRLING OBSERVER – 22 JUNE 2018
WWW.BRITISHNEWSPAPERARCHIVE.CO.UK
His death was reported in the local Stirling Observer with the family in no doubt that his death was due to being gassed in France.  He was buried in the small Churchyard at Gartmore close to the entrance gate.  His name was included in the Police War Memorial when it was unveiled at Falkirk in the 1920s.  It later moved to Randolphfield when it was the Headquarters of Central Scotland Police.  Archibald Graham's war service, however, had not been properly recognised.  Whilst his colleagues lying at rest in France, Belgium and in other Commonwealth War Graves in the world received the recognition of the now recognisable headstone he received no such recognition.  Thankfully this has now been put right and his recognition as a victim of World War One was completed in 2016 when a Commonwealth War Graves Commission headstone was finally unveiled at his grave in Gartmore.
REMEMBERING ARCHIBALD GRAHAM
So this weekend as we pause to remember those who fought and died in the war I will also give some thought to the tragic and short life of PC Archibald Graham who despite joining the police and looking forward to what may have been a secure life in the service of his local community, volunteered and went to war, was gravely injured and ultimately paid the fullest price.  It is of some reassurance that his war service is now fully recognised.