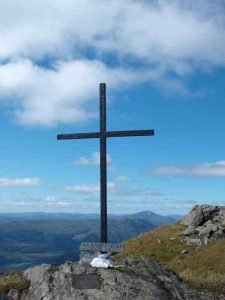 Anyone from across Scotland with an interest in hill walking and the outdoors will know the wonderful climb up Ben Ledi, near Callander, Perthshire.  Despite being under 3,000 feet and small compared to Scotland's more grander mountains, its location on the very southern edge of the Highlands, and close to the Central Belt, means it is among many people's favourite walks.  Many people, of varying ages and backgrounds, talk of cutting their hill walking teeth on Ben Ledi before venturing further north and west to the higher and more challenging mountains of the Scottish highlands.  It is high enough that it requires the correct equipment (no trainers!!!!!) but can be done in a few hours.  The view from the top is breath-taking and a great reward for the effort.
Many people who climb Ben Ledi also remember another feature of the hill.  A black metal cross located on an outcrop of rock just a few metres short of the summit.   A look at the plaque at the foot of the cross reveals that it is a memorial to Sergeant Harry Lawrie, BEM killed on Ben More near Crianlarich on 1st February 1987 whilst on duty with Killin Mountain Rescue Team.  Sergeant Lawrie was killed when the RAF Wessex helicopter which he was in crashed on Ben More.  He and the team were carrying out the search for a missing climber, who was later found dead on the hill.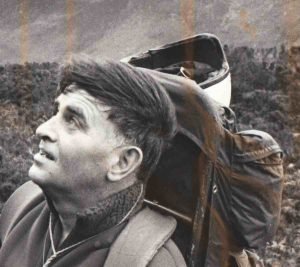 Wednesday, 1st February 2017 is the thirtieth anniversary of this incident and on that day a small number of his family and close friends will make their way up to the cross to remember him and no doubt consume a dram or two (or three) of whisky around the cross.
Sgt Harry Lawrie was also my father.   I was 19 years old when he was killed and like him I was a serving police officer with Central Scotland Police.  At the time I was only one year into my police career which I completed in May last year after 30 year's service.
In deciding the topic of my first genealogy blog, the fact it coincided with this significant anniversary meant it was an obvious topic.  Now that I am a professional genealogist it made me think of a more sombre issue for genealogists – the importance of recording those tragic incidents and events that happen in our own lives.  We are constantly reminded of the importance of capturing our own family history for future generations but the tragedies are as much a part of the fateful twists and turns of our family's history than your 3 x great grandfather's unexpected death in 1883.
As we research our family history many of us uncover stories of tragic accidents or deaths of our ancestors at a young age.  My 5x Great grand-father, Robert REID from Fyvie in Aberdeenshire, was only 33 years of age when he was tragically killed in 1846.  The Old Parish Record for Fyvie records his burial with an entry that states simply "Robert Reid, Burnside, Meadaple (killed by the coach)."  (Deaths (OPR) Scotland. Fyvie, Aberdeen. REID, Robert) This is also on his headstone in the local Kirkyard.
Instances of someone being killed by a horse and coach on the rural roads of Scotland would not have been common although he was probably not the only one to suffer such a fate at that time.  Yet I have only limited information on Robert's death.  He is on my TO DO list to do a more thorough search so in time I may find out more about him and the circumstances of his tragically young death.
Fast forwarding to 1987 and my dad's death at only 45 years of age, it should be much easier for his future descendants to find out about him, especially if I do a good job of this genealogy business!!   My dad was well known in the Callander and Killin areas of Perthshire and was well respected in Mountain Rescue circles across Scotland.  He had even made a starring appearance on a few TV news programmes promoting mountain safety.  The phrase "I LOVE THE HILLS", engraved on the plaque on Ben Ledi, comes from an off the cuff comment he made at the end of an interview he gave on an STV programme in the mid-eighties.
So the reality is that, with all this information, my dad's descendants will have an easier time tracing his story than I have had with Robert REID.  Even in 1987 we lived in a different era in terms of media and record keeping.  The helicopter crash itself was a major news story at the time and was reported on TV and in newspapers across the UK and indeed beyond.  The newspaper article below in the Times is an example of the coverage (The Times, 2 Feb 1987).  The story had added poignancy as he had just been awarded the British Empire Medal in the 1987 New Year Honours List for his services to Mountain Rescue and the community and his entry can be found in the London Gazette website.  The newspapers also reported the story of my mother receiving my dad's BEM from HRH The Princess Royal in Perth later that year.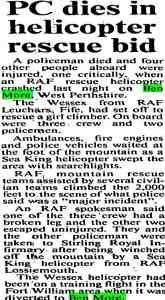 As my dad died on duty as a serving police officer his death is recorded on a number of police memorials.   There is an unedifying but ever running debate about what "qualifies" a person to be on a national police memorial.   The circumstances of his accident mean my dad's name is in the National Police Memorial in London and will be on the UK National Police Memorial at the National Arboretum, Staffordshire when it is unveiled in 2018.   More poignantly his name is on the Scottish Police Memorial at The Scottish Police College, Tulliallan where he trained as a police officer.
You can find information on him and other officers who were killed on duty through various websites not least the Police Roll of Honour Trust  ( http://www.policememorial.org.uk ) who do a wonderful job remembering police officers killed on duty across the UK and is a resource genealogists should remember if they ever have to research this topic.   Details of my dad's entry is on http://www.policememorial.org.uk/index.php?page=central-scotland-police.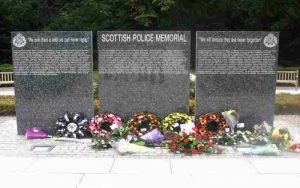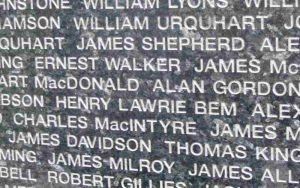 His name also appears on a small memorial at Callander Police Station.  He was stationed at Callander from 1981 to his death in 1987 and it is only right that his memorial is at that station rather than located in a large Headquarters Building in Stirling or elsewhere.  His former colleagues will tell you he was n't a Headquarters kind of person!!!!   I took the time, a few days before my retirement from the Police in May, to visit the memorial at Callander and have my picture taken, trying to ignore the obvious evidence of my own personal ageing since the memorial was unveiled in 1987!!!
For me this underlines the important duty placed on those of us who have been entrusted to capture their family's history to critically record the story of our own personal tragedies.  It is very hard and a personal challenge to recall and re-capture in detail the death of a loved one and remember what was probably the worst time of your life when all you want to do is keep moving on and not re-open those old wounds.  But it is part of your family history and in many ways can be therapeutic.
Critically for me we must remember that if we don't capture and retain our own stories and recollections the source of the the evidence our own descendants will read in years to come will only be from the official records – the newspaper articles, the official accident reports, death certificates, a name on a memorial etc.  Just imagine if I had a record direct from the family of Robert Reid of his death and what kind of person he was.  In this blog alone I have relayed stories of my dad which would never feature in any official document not least the story of why "I LOVE THE HILLS" is on the plaque on Ben Ledi.
It is therefore so important to capture our own histories but not just the great memories of the births, marriages and achievements but also the tragedies.  So for me, added to that ever growing TO DO list, will be a commitment to capture in more detail my own recollections and memory of that tragic time 30 years ago when my dad was killed on duty.   This can be a lasting memorial for his descendants so his story and the circumstances of his death can be understood many years from now.
This article is written in memory of my dad, Sgt Harry Lawrie BEM but also the young woman who died on Ben More that evening. I have chosen not to name her here to protect her family's right to privacy but our thoughts are also with them at this time.