As we arrive at Remembrance Day again I thought I would introduce a new series in my blog.  We are about to enter the final year of the centenary celebrations for World War One.  2018 will see some significant commemorations including of course the centenary of the actual armistice on the 11 November when the guns fell silent for the last time – in that war!!
On a more personal note our family have two commemorations.  My great great uncle Fred Bruce of the Gordon Highlanders died in April 1918 at the Battle of the Lys.  He was 21 years of age and from Midmar, Aberdeenshire.
Later in August my wife Julie's family will pause to commemorate her 2x great uncle Captain George Ainslie of the Kings Own Scottish Borderers.  He died of his wounds and is buried in Northern France.  In April 1918 during the same campaign where Fred Bruce died, George Ainslie earned the Military Medal.  We hope to make a trip to Ypres and Northern France in the summer of 1918 to commemorate and thank these two brave young men.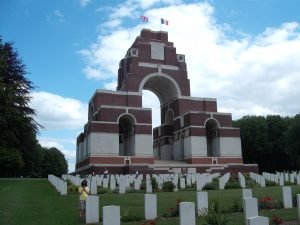 My daughter Emma at Thiepval, France in 2013
We also have others who fought, survived and returned to life at home including my great grand-father Robert Lindsay of the Argyll & Sutherland Highlanders and Julie's great grandfather's Robert Denham of the Kings Own Scottish Borderers and James Turnbull who fought with the Highland Light Infantry.
With this final year of commemoration in mind my thoughts have turned to how to mark this occasion in my Heart of Scotland Ancestry blog.  World War One research has always fascinated me and during my University of Strathclyde course I carried out a study of the police officers from Stirlingshire Constabulary who were lost in the war and are commemorated at a memorial at the entrance foyer in Stirling Police Office.  The project allowed me to learn how, using a range of different records, some accessible online but many only available in local archives, you can build a picture of a fallen soldier or one who survived and returned home, often resuming their police careers.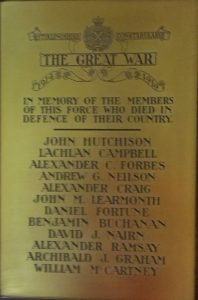 Stirlingshire Constabulary WW1 War Memorial – Stirling Police Office
There are twelve names on the memorial in Stirling Police Office, although another police officer, who resigned from the force to sign up, was also lost during the conflict but does not feature on the memorial.  I found their individual story's fascinating. Also interesting was the politics of how the Chief Constable, tasked with maintaining an efficient police force with additional security duties during the war, battled against a growing desire from individual officers, local politicians and local communities to free up more and more officers to volunteer for the war effort.  This story was revealed to me through the records held in the Stirling Archives.  It is a story I am keen to return to as there is so much more for me to learn about these men and their sense of duty both as police officers and soldiers.
To mark the centenary of the end of the war next year over the remainder of 2017 and throughout 2018 I will publish a blog on the anniversary of the death of each of the thirteen police officers from Stirlingshire Constabulary killed in the war.  Each blog will give a summary of the police officer, their pre-war life, what we know about their life as a police officer and also the story of their war, their death and their commemoration.
The thirteen who died were out 40 police officers I identified from Stirlingshire Constabulary who fought in the Great War.  A report by Her Majesty's Inspectorate of Constabulary in Scotland identified that the strength of this small county police force in 1914 was only 111.  The mortality rate for police officers in Stirlingshire Constabulary was greater than many other police forces in Scotland including Glasgow and Edinburgh City forces who lost more men but not as high a percentage as Stirlingshire Constabulary.  Their story deserves to be told.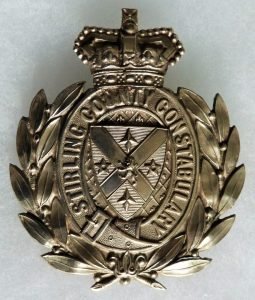 Stirlingshire Constabulary Cap Badge
The series will start on the 17th November with a blog about Gunner Alexander CRAIG of the Royal Field Artillery who was also Constable No. 112 of Stirlingshire Constabulary.  The full list of the officers who died, their service unit and the dates of their deaths are detailed below.
Gunner Alexander CRAIG – Royal Field Artillery – KIA Somme, 17 November, 1916.
Pvt James McCARTNEY – Household Battalion – DoW at N.Ireland, 24 November, 1917.
Sgt Alexander RAMSAY – Scottish Horse – DoW Africa, 28 March 1918.
L/Cpl John LEARMONTH – 1/7th Black Watch – KIA Nth France, 23 April 1917.
L/Cpl Alexander FORBES – 1st Gordons – KIA Nth France, 29 April 1916.
Private Daniel FORTUNE – 7th Field Ambulance, RAMC – KIA Arras, 15 June, 1915.
L/Cpl Benjamin BUCHANAN – Black Watch – KIA Passchendaele, 31 July 1918.
Cpl Andrew NEILSON – 1st Gordons – KIA Somme, 18 August 1916.
Pvt Lachlan CAMPBELL – 7th Seaforths – KIA Loos, 25 September 1915.
Pvt William McCARTNEY – 12th HLI – KIA Ypres, 28 September 1918.
Pvt Archibald GRAHAM – 1st Gordons – DoW at Scotland, 24 May 1918.
Pvt John HUTCHISON – 2nd Seaforths – DoW Nth France, 17 October 1914.
Gunner David J. NAIRN – Royal Field Artillery – KIA Passchendaele, 18 October 1917.
As a police officer working in Stirling Police Office it was often too easy to dash past the war memorials in the foyer and not consider the names listed.  The same I am sure goes for the hundreds of War Memorials located in police stations across the country.  Remembrance Day is one opportunity to pause and consider who were these men who served not only as police officers, but also during the Great War?
Police Officers were already used to discipline and taking direction and the evidence from my small study was that in Kitchener's volunteer army many were valued as recruits and quickly found themselves serving as NCO's and later in the war as officers.  I hope the series will be informative and a fitting way of commemorating the sacrifice by a group of young men who were already doing an important and valuable job in society but who chose to give that up to serve during the Great War.